We believe in this team that we have created for you so much, that we are willing to put our own money into your deal.


P R I N T T H I S P A G E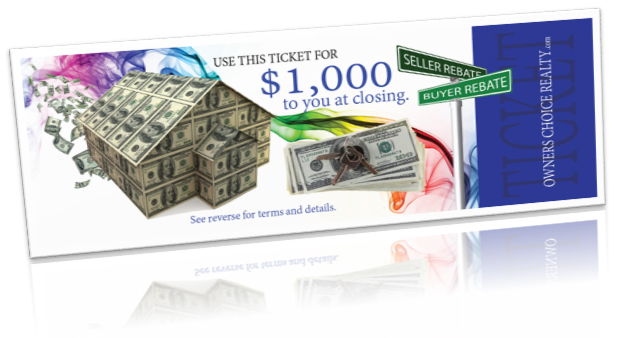 Buyers and Sellers can recieve a $1,000 Rebate at closing when you hire a Team member of our Rebate Ticket Program as your agent.*
Our entire Rebate Ticket Program Team will be YOUR TEAM.
You can choose any team member as your Lead Agent.
The rest of the entire team is here to help as well.
Our team will represent you and help you through your entire journey, from the day you decide to purchase or sell your property to the day you close your transaction.
We are research and contracts experts in real estate. Our team has a wealth of experience in all aspects of real estate. No transaction is too small or too big.
Your goals are our focus. Our Team is YOUR TEAM.
Print this page, and exchange it for a real Rebate Ticket when we meet you in person.
If you are selling and buying a home with our team representing you, you can have 2 tickets (one for each transaction).
YOUR TEAM is ready to meet your real estate goals.
Please contact any of our Rebate Ticket Program team members to get you ticket today...

Amy Wolfe 404-304-6701 text
amy@ownerschoice.org
John Wolfe 404-304-6119
wolfepackrealestate@gmail.com
Tracy Williams 770-355-0774
franklintracy@bellsouth.ne
t
Aaron Halberg 678-650-6608
aaron.halberg1@gmail.com
Kelley Bolin 928-583-4492
runwithkelley@gmail.com
*
The Rebate Ticket contains the terms and conditions of the Rebate Ticket Prgram on the back. You must have the physical ticket when signing up as a client. We can send you one in the mail, or meet you in person to give you your free Rebate Ticket. There is no obligation for obtaining the physical ticket, nor any monetary value to the ticket itself. It is your participation in the Rebate Ticket Program with Owner's Choice as your real estate firm that earns you your actual rebate money at the closing of your Georgia property, purchae or sale.